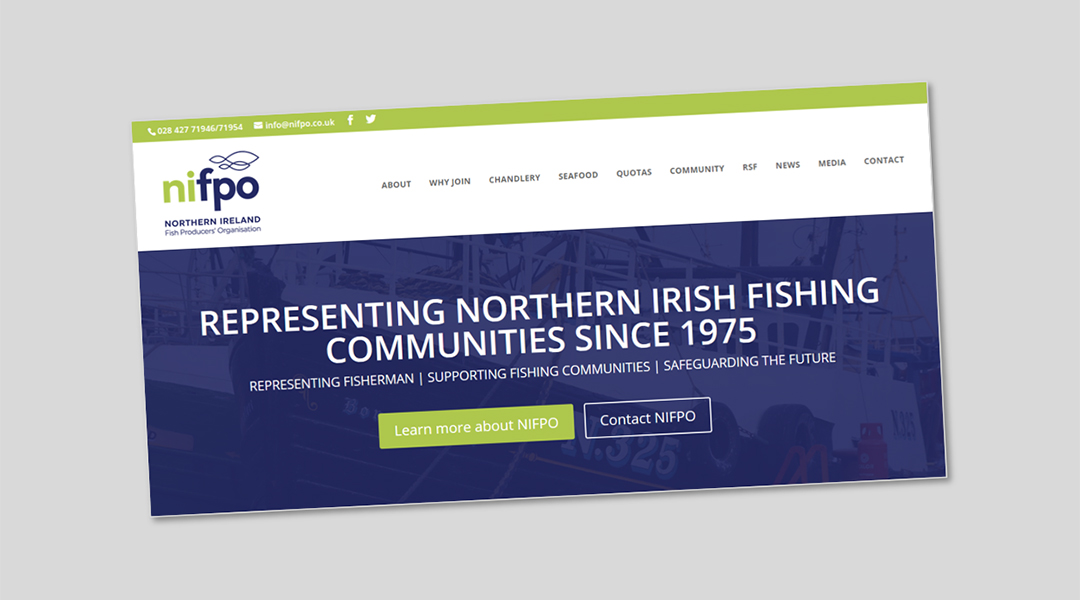 Found at www.nifpo.co.uk, NIFPO – The Northern Ireland Fish Producers' Organisation – have launched a new website and digital strategy.
A platform site, the new digital space is a live channel for CEO Harry Wick's social content, to keep his members, the fishing communities and stakeholders up-to-date during the Brexit process. It also features a Media Centre, live quota details, updates on NIFPO's work in the community and promotion of the world class catch we have here in Northern Ireland.
The digital strategy centres around live updates on twitter, facebook and linkedin, enabling the NIFPO CEO, Board members and key stakeholders to engage directly with the fishermen, the fishing communities, media, Government and NI Plc.
Harry Wick, CEO of NIFPO says:
"Brexit has highlighted just how important the role of NIFPO is to our fishermen and their families. Not only are we representing fishermen in the Brexit process, but we have a role to support their families and our harbour communities. We sit in between a large numbers of people on either side of us who need to communicate clearly with each other through us. Unless we know what all parties want our role is limited and ineffective. Our new site and supporting digital strategy enables direct access to myself from everyone – Government, media, fishermen, public – and a free flow of information and updates. Vitally it gives myself and our Board direct access to the opinions and views of our members – straw polls, litmus tests, hard data and sound bites – all crucial to the ongoing events around Brexit. It also gives NIFPO a platform (away from Brexit) to celebrate local people, be an effective cog in #supportlocal initiatives vital to the health of our small harbour economies and to lead the the Northern Irish fishing industry forward to ensure sustainable prosperity for all."
Links